Kitten Racing はとある地方にある小猫川高校(女子校)の自転車部のチーム名です。一昔前は大勢のメンバーがいて、チームでロードレースに参戦していたので、チーム名も「レーシング」と付けられたのですが、月日が流れ、メンバーが減っていき、最後のメンバー達が卒業で、あわや廃部というところに、現在のメンバー5人が入部して部の再建に向けて始動開始。とは言え、以前のようにレースに参加することもなく、もっぱらサイクリングを楽しんでいます。

このサイトでは、Kitten Racingメンバー達の紹介をしていきながら、彼女達の着ているカラフルなチームジャージと、彼女達のイラストが入ったキャラクタージャージをご紹介します。

Kitten Racing is the team name of the cycling club of Konekogawa High School (girls' school) in a certain region in Japan. A long time ago, there were a lot of members, and they were participating in road races as a team, so the team name was also named "Racing". When the club was abolished after graduation, the current five members joined the club and started rebuilding the club. They don't participate in races like I used to, but they enjoy carefree cycling. On this site, we introduce the members of Kitten Racing and the colorful team jerseys they are wearing and the character jerseys with illustrations of them.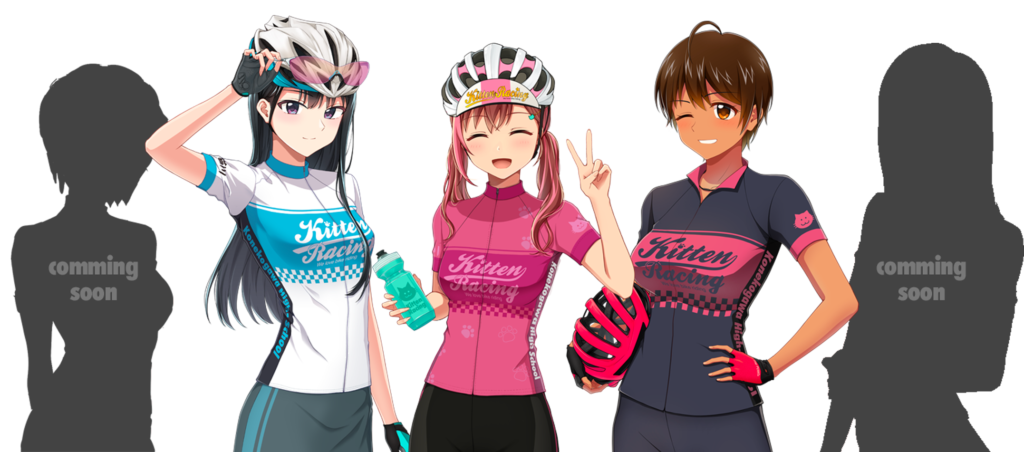 お問い合わせは4126@kitten-racing.comまで
© 2022 Kitten Racing. All right reserved.